Product Detail
FAQ
Product Tags
Product characteristics
Description
- Standard XY2-100 protocol,open interface, compatible with popular control card on the market.
- Support wavelength: 10640nm10200nm9400nm.
- Designed based on output beam characteristics of popular laser on the market, maximize the use of optical lenses.
- II-IV optical components,small light loss.
- Double driving Z axis dynamic focus module design,reponse frequency≥100HZ@±10°.
- Applied for kinds of horizontal, vertical and inclined installation occasions.
- It can be used in kinds of moving line, visual positioning, deep-carving, step marking and other production line applications with LenMark and WinMark software.
- Support high power components customization, max. power up to 3KW.
- The P2 version take advantange of digital pulse width modulation driving technology,high  response speed, low temperature drift.
- The external Z axis adjustment button is added, and the Z axis can be adjusted to the desired position  without opening the housing.
Application
Cutting,Marking,Cleaning,High speed fly processing in textile,Automotive,Packaging Industry
Version
C303:Standard,Pro
C321:Standard,Pro,P2

General specification
Power Supply

InputVoltage(VAC)

170~264

OutputVoltage(VDC)

+24

Current(A)

5A(2sets)
Control card
| | |
| --- | --- |
| Output Interface | XY2-100 Protocal |
| Input Interface | Data Communication Interface |
| Laser Type | CO² |
Environmental Requirement
| | |
| --- | --- |
| Ambienttemperature(°) | 25+10 |
| Storagetemperature(°) | -10~+60 |
| Humidity | ≤75% non condensing |
Galvanometer specifications
Version

Standard

Pro

P2

Scan Angle(°)

±11

Repeatability(μrad)

8

5

Max. Gain Drift(ppm/K)

100

50

Max. Offset Drift(μrad/K)

30

15

Long-term drift over 8h(mrad)

0.5

0.1

Max.processing speed(characters/)

350@400×400

Tracking Error(ms)

≤0.4

≤0.38
Optical Specifications
| | |
| --- | --- |
| Aperture Size(mm) | 30mm |
| Inputbeamdiameter(mm) | 7.5mm.9mm,12.5mm |
Working filed Spot Diameter
| | | | | | | | | |
| --- | --- | --- | --- | --- | --- | --- | --- | --- |
| Working Field(mm) | 300×300 | 400×400 | 500×500 | 600×600 | 750×750 | 800×800 | 1200×1200 | 1600×1600 |
| Focal length(mm) | 366 | 466 | 566 | 676 | 836 | 896 | 1456 | 1976 |
| The Min.Spot Diameter@1/e²(mm) | 0.230 | 0.280 | 0.330 | 0.390 | 0.460 | 0.490 | 0.760 | 0.970 |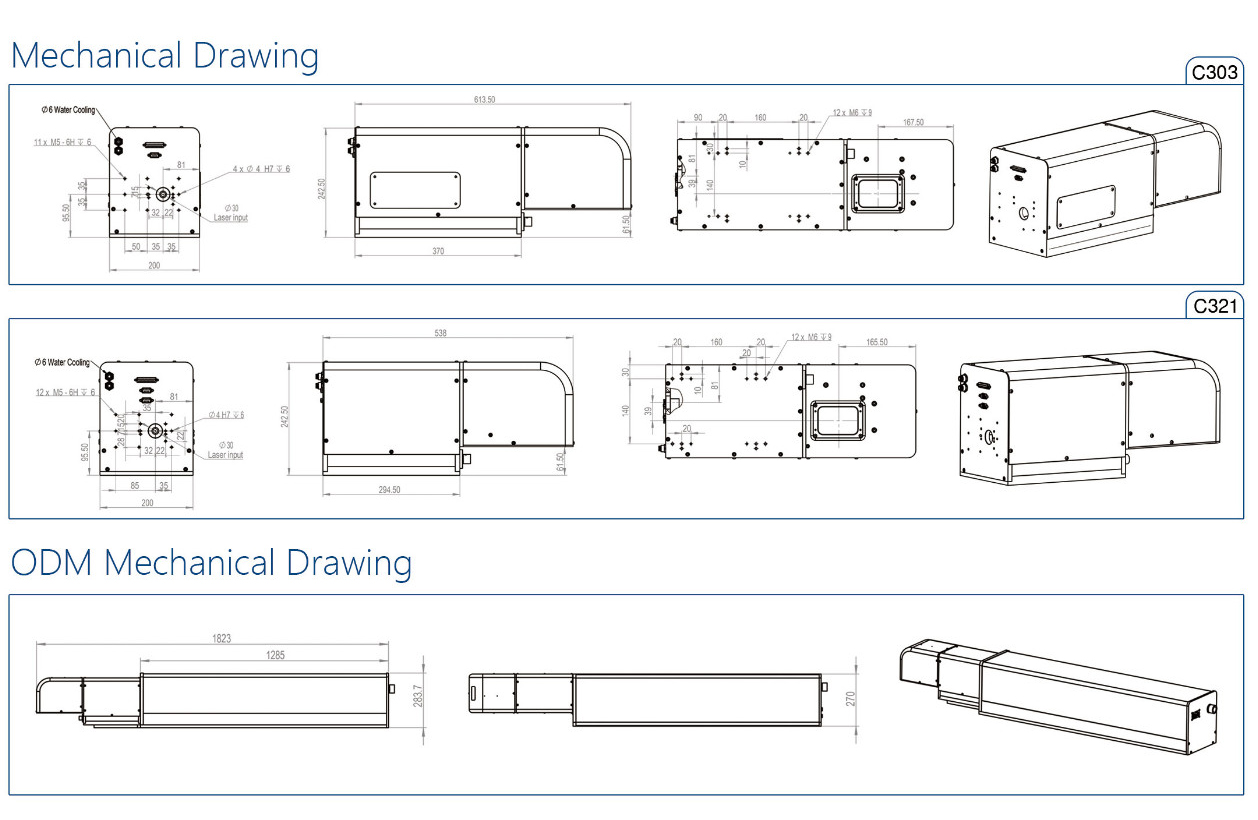 ---
Previous:
3D Scanner-CO2-C302A
Next:
3D Scanner-CO2-C309/C330
---
Write your message here and send it to us