Product Detail
FAQ
Product Tags
Product characteristics
Description
- Standard XY2-100 protocol,open interface, compatible with popular control card on the market.
- Support wavelength: 10640nm10200nm9400nm.
- Designed based on output beam characteristics of popular laser on the market, maximize the use of optical lenses.
- II-IV optical components,small light loss.
- Double driving Z axis dynamic focus module design,reponse frequency≥100HZ@±10°.
- Applied for kinds of horizontal, vertical and inclined installation occasions.
- It can be used in kinds of moving line, visual positioning, deep-carving, step marking and other production line applications with LenMark and WinMark software.
- Support high power components customization, max. power up to 3KW.
- The controllable of Z axis optical design, easy to achieve working field switch and its corresponding focal point set.
Application
Cutting,Marking,Cleaning,High speed fly processing in textile,Automotive,Packaging Industry
Version
Standard,Pro

General specification
Power Supply

InputVoltage(VAC)

170~264

OutputVoltage(VDC)

+24

Current(A)

5A(2sets)
Control Card
| | |
| --- | --- |
| Output Interface | XY2-100 Protocal |
| Input Interface | Data Communication Interface |
| Laser Type | CO2 |
Environmental Requirement
| | |
| --- | --- |
| Ambienttemperature(°) | 25+10 |
| Storagetemperature(°) | -10~+60 |
| Humidity | ≤75% non condensing |
Galvanometer Specifications
| | |
| --- | --- |
| Scan Angle(°) | ±11 |
| Repeatability(μrad) | 8 |
| Max. Gain Drift(ppm/K) | 100 |
| Max. Offset Drift(μrad/K) | 30 |
| Long-term drift over 8h(mrad) | 0.5 |
| Max.processingspeed(characters/s) | 350@400×400 |
| Tracking Error(ms) | ≤0.4 |
Optical specifications
| | |
| --- | --- |
| Aperture Size(mm) | 30mm |
| Inputbeamdiameter(mm) | 7.5mm,9mm,12.5mm |
Working Filed Spot Diameter
| | | | | |
| --- | --- | --- | --- | --- |
| Working Field(mm) | 300×300 | 400×400 | 500×500 | 600×600 |
| Focal length(mm) | 366 | 466 | 566 | 676 |
| TheMin.SpotDiameter@1/e²(mm) | 0.230 | 0.280 | 0.330 | 0.390 |
| | | | | |
| --- | --- | --- | --- | --- |
| Working Field(mm) | 750×750 | 800×800 | 1200×1200 | 1600×1600 |
| Focal length(mm) | 838 | 896 | 1456 | 1976 |
| TheMin.SpotDiameter@1/e²(mm) | 0.460 | 0.490 | 0.760 | 0.970 |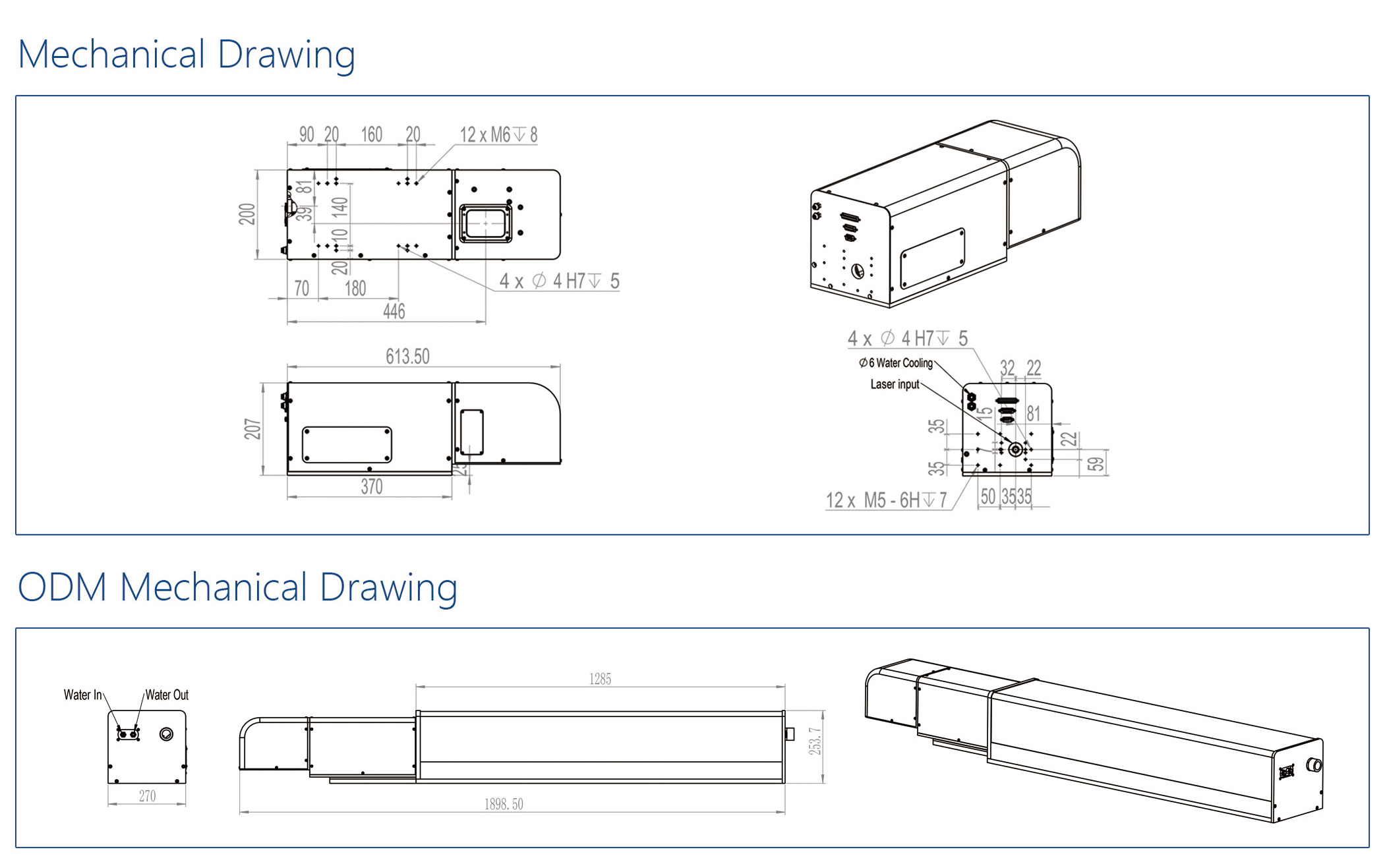 ---
Previous:
3-Axis-1-Point Focus Module
Next:
3D Scanner-CO2-C303/C321
---
Write your message here and send it to us